There is no doubt that Steve Jobs will be remembered as a visionary with the liking of Thomas Edison and Henry Ford. His design is found everywhere. His ideas have shaped entire industries. Whether you own an Apple product or not, you've been touched by his vision.
The iPod
After hearing of Steve Jobs passing I kept a quick tally of how many people were exercising with an Apple product and by far it's been at least 9 out of 10. I know very few runners that don't run with one. I've owned several.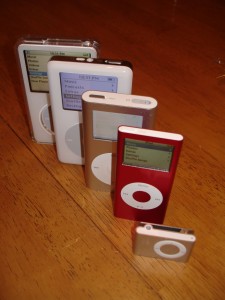 When the iPod was introduced on October 23, 2001, it was small, lightweight, and expensive (for 2001). The Apple pitch was it held 1,000 CD quality songs. Far more than any other mp3 player on the market. The first generation wasn't even compatible with Windows based PCs. Now, only a decade later, treadmills have iPod docs.
The introduction of the iPod was the beginning of an evolution.
iPod Mini, Nano, & Shuffle

The iPod didn't really start having an impact on the fitness industry until the introduction of the iPod mini, later the nano and shuffle. This was the start of a line-up of iPods that made it easy to take with to exercise.
The iPod Shuffle's integrated clip design makes it the perfect music companion for your workout. For only $50, you can buy an iPod shuffle. It's cheap. It works great.
The Shuffle redesign

The first generation iPod shuffle started about the size and shape of a pack of gum. It was ok, but still good for exercise. The next generation introduced a clip and a small square design. In a short amount of time 2nd generation iPod Shuffle became the most popular music player for exercise.
In 2009 Apple took the iPod shuffle back to the gum pack design. They kept the clip on the body, but they removed the buttons and integrated the buttons into the headphones. This was a flop. The next year they did something you rarely see at Apple, they admitted that their design wasn't right. In the 2010 keynote, Jobs introduced the 4th generation iPod Shuffle and one of the first key points was that users loved the shuffle for exercising and that was their inspiration to go back to the 2nd generation design.
Nike+

It's hard to buy a pair of Nike running shoes that don't have Nike+. If you are a runner and you haven't used Nike+, your missing out. This little device integrates with your iPod. A little sensor goes in your shoe. It keeps track of everything from your distance to calories you've burned. It even motivates you by telling you how far you have left on your run. Nike+ is really quite amazing.
He was a visionary, rebel, misfit, jerk. Some viewed him as one of the most brilliant business men of the new century. His impact will live on for many generations.
Thank you Steve, for Apple, Pixar, and inspiration to be great.