The holidays are here, you're stressed out, you're cooking delicious meals, your schedule is chaotic, it's tough to eat healthy and keep up with your workouts.Here are some (more) tips to help you out.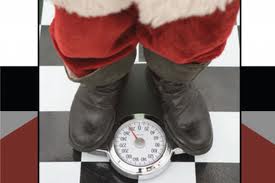 Pre-Plan Meals. Even better, pre-cook your meals and put them in easy to-go containers. This way you never have the opportunity to over indulge. You are more likely to eat what is fast and convenient for you, so why not make it healthy.
Shopercise. Believe it or not, shopping can actually be a good workout. Just avoid the easy calories at the mall. Remember that exercise isn't just about going to the gym, it's about being active everyday in every way.
Have a wake-up routine. Wake-up do a quick 10 minute set of body weight squats, push-ups, sit-ups, and burpees. Don't forget to stretch. Stretching is a good way to relieve tension from stress.
Go Low Carb. Cookies, bread, sugary candies are loaded with carbs and are hard on the waistline. You can relax, you can eat your carbs at family dinners.
Weigh Yourself Daily. You'd be surprised what consistently weighing yourself every morning can do for your motivation to lose weight. Write your weight down on a calendar. Don't worry if it fluctuates a few pounds, just watch for trends.
Need more tips to keep you healthy during the holidays? Download my free Holiday Fitness Survival Guide!
Delicious Healthy Recipes
Ready-Made Workouts
Fat Loss Tips
Much More!