If there is one thing that you probably already know about eating healthy it's that hunger pangs are evil. Here are eleven ways to help you fight off the cravings.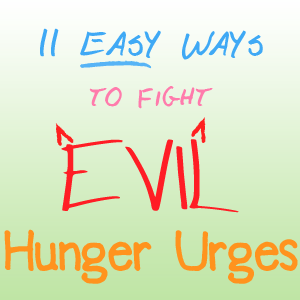 Stay hydrated – You would be surprised how often you are actually dehydrated versus being hungry. Drink some water before you decide to eat.
Eat low impact snacks – Have some low impact snacks like carrots or apples to help carry you to your next meal.
Stay focused on goals – Keeping a food journal might just keep you motivated enough to wait out until your next meal. Stay focused and see success!
Get rest – Being tired can lead to feeling hungry. Take a quick nap before you decide to dive into a meal.
Relax – Stress is also another trigger of hunger urges. Take a moment to relax and breathe.
Exercise – Instead of eating that next snack, go for a walk instead. A little sweat should save you until your next meal.
Get use to it – Tough love, I know. If you are new to a diet, the beginning can be a little rough, but I promise once you get further down the road, it won't be so bad.
Eat slower – It takes awhile for your body to know that it's full. Have you ever eaten so much and ten minutes later you feel terrible? Take your time eating and you will eat less.
Chew gum – Chewing gum can give you the sense that your eating without the calories. Minty gum seems to work better.
Get some caffeine – Caffeine can help suppress hunger urges. Make a cup of tea or coffee. Just don't over do it. You shouldn't consume any more than two strong cups of coffee a day.
Keep food away – Keep food out of your enviroment. Easy access to snacks will just lead to eating them.
Feeling hungry can be a put a big dent in your diet plans, but knowing how to fight off the hunger urges can be a critcal skill for seeing weight loss success!
Do you have a way you fight hunger urges? Tell me how in the comments below!