We have a nationally recognized marathon that has shown great success and boasts high local participation. We have a very outdoor exercise friendly city. Maybe it's time for a little adventure in Fargo.
At the end of June, Bismarck is hosting the Gladiator Rush, a home grown adventure race that features 12 natural and unnatural obstacles over a 3.2 mile course. The obstacles will include jumping over fire, crawling through mud pit covered in barbed wire, and running up a mountain of mud. May not sound appealing to you, but these races are popular, very popular. As of today, the Gladiator Rush has over 3,000 participants registered and only has room for a few more.
Over and over do I hear of friends, family, clients, and random people talk about how they are going to either a Warrior Dash in the St. Paul or heading out to Bismarck for the Gladitor Rush. It's not that it's just another race, it's the enthusiastic tone I hear in people voices when they talk about participating in these races. I hear comments like "It's different!", "Running and crawling through mud is fun!", "It's a nice break from running road races!".
If you're not familiar with what I'm talking about here are a few races I'm referring too: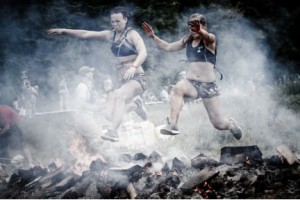 Gladiator Rush
Gladiator Rush is a 5k course carved out of the Huff Hills Ski Resort just outside of Bismarck. Featuring over 10 different obstacles, each one is sure to challenge the inner gladiator in you. Immediatly following the race there will be a band and beer to celebrate your victorious day of sport!
Next Race: June 30th, 2012
Website: http://gladiatorrush.com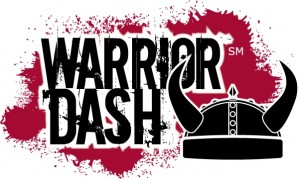 Warrior Dash
The Warrior Dash is a race that is featured all over the country and is one of the most recognized adventure races. They are estimated to have over 1 million participants in all the 2012 races. The Warrior Dash hosts 10 – 12 obstacles that you must navigate through on your race journey. From crawling through mud pits or jumping over 6ft tall logs, there will be a whole host of obstacles to navigate.
Next closest Warrior Dash: June 30th, 2012 St. Paul, MN
Website: http://warriordash.com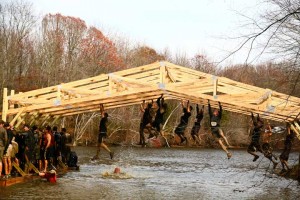 Tough Mudder
Tough mudder, like it's name, is tough. A typical Tough Mudder is 10 – 12 mile long course covering about 20 different obstacles. The top 5% finishers become automatically eligible for a tougher course at a later date. These races are not for the meek, you must train to compete in a Tough Mudder!
Next closest Tough Mudder: September 8th, 2012 Wisconsin
Website: http://toughmudder.com
Maybe it's time for Fargo to get it's own adventure race. I can imagine it takes quite a bit of leg work and financial obligations to get one of these races up and running. Also, there needs to be a space to do it. For the Gladiator Rush in Bismarck, the Huff Hills ski resort offers a perfect solution for an adventure race. I can see Fargo hosting an adventure race in the near future, however with enough interest and buzz maybe we can get that ball rolling a little quicker!
So let's do this, if you are interested in an adventure race in the Fargo Moorhead area, leave a comment below and share this article with your friends on Facebook. Let's get some FM area adventure race buzz going!