Here we are almost in the middle of November already! A few weeks ago we talked about keeping you working on the rocking body before the holidays. As busy as the holidays are it's important to have a plan and stick to it!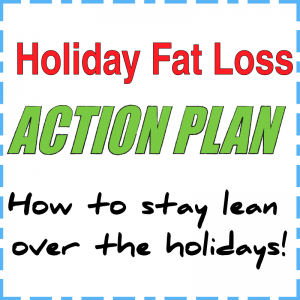 Well, how's it going? Are you hitting your workout goals? If not, it's not to late to get started. Look you can easily get distracted with all the holiday hustle and bustle, but that's no excuse to no get your workout in!
Let's talk about your exercise during the holidays. I know it might be your instinct that if you can't do an hour or two of exercise it might not seem like it's worth it. Well that's just not the case. Just few minutes of exercise can make an impact on your goals.
It works like this. I always like to think exercise is a catalyst of healthy behavior. If you exercise, then exercise will lead to eating healthy, and so on. There is a caveat to this theory. Some lean on exercise as a crutch for unhealthy behaviors. They use exercise as an excuse for the unhealthy stuff they have done. Don't be that person. Make exercise the excuse to eat healthy, not that other way around.
The problem with exercise is we often percieve exercise being a more is better thing. That's just not the case. In fitness we have a minimum effective dose. The least amount of exercise that produces the most results. For most people I find the minimum effective dose for exercise is a lot less than they think it actually is. Producing solid weight loss results can be done easily with just 20 – 30 minutes of daily exercise. Seriously. That's it. It doesn't need to be overly complicated either. If you are finding it hard to make it to the gym, just workout in your living room. You don't need any equipment, just some space and your body weight will do. By the way, if you do workout at home, turn the TV off, silent the phone, and turn the music on. The world will survive without you for 20 minutes.
Here is a simple 15-20 minute equipment free routine you can do at home:
-Jog in place for 1 minute
-Jumping Jacks for 1 minute
-Plank for 1 minute
-Push-ups x10
-Squats x20
-Crunches x20
Repeat 3 times, repeat 4 times if you're feeling ambitious.
I know you can do this! Keeping up with your workout routine will keep you stress free, healthy, and looking great! Just remember a little bit of something can add up to a lot over time. So just keep moving!
Check out the rest of my Holiday Action Plan Series here:
Holiday Action Plan – Pep Talk
Holiday Action Plan – Diet Guide
Holiday Action Plan – Fat Loss Action Grid