There is one thing that isn't mentioned often when changing your diet. Your focus, your attitude, the commitment to your goals. It's often overlooked, misunderstood, and underestimated. Anyone that has cheated on their diet knows what I am talking about. That moment when your will power withers and you give into a not so diet friendly treat. Or that moment you decide to go home when you know you should be at the gym. It happens. Here are some tips to keep you focused and keep you from bombing your fat loss plan.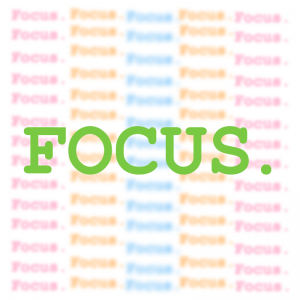 Write.
Write down exactly what you want to accomplish. Do this often. There is special connection to writing down your goals and keeping them. Your thoughts are easy to ignore, but there is something unbreakable about putting the ink to the paper. It's like a personal contract with yourself. Write your goals down. Be specific and review them often.
Meditate.
Take a moment and focus on your goals. No you don't need to light a bunch of candles and listen to zen music. Just take a moment and focus on your thoughts, focus on what you want to accomplish, visualize obstacles you are going to face and how you will over come them. Just don't think about it once, do it over and over. If you repeat these scenarios in your thoughts you will be more equipped to take them on later.
Simplify.
Every single client I take on has a mile long laundry list of things they want to change about themselves. It goes on and on, but there's little focus. The first thing we work on is finding focus, singularity, and clarity on their goals. We find that one thing we need to focus on first. You need to simplify and focus on one task at a time. You'll find you will be much more successful and much less frustrated when you can master this.
Reflect.
You're stuck. You've lost ten pounds, a few pant sizes, co-workers are complimenting you, but your stuck. Your stuck on those next ten pounds. It's incredibly frustrating and very disruptive to accomplishing your goals. At these moments it's easy to lose focus. This is when you need to reflect. You need to reflect on your journey so far. Sure the next ten pounds might not be as easy as the first, but it's important to remind yourself that you have lost ten pounds!
Reward.
Finally, you need to celebrate your accomplishments. You should mark your milestones with rewards. Whether it's buying yourself some new skinny jeans or going for a whole new haircut, do something to mark this new moment in life.
Find your fat loss attitude and you might find yourself on the path to success!